Ok.... after I had a good cry yesterday.... ok maybe several.... I need to snap out of it! After all, it is FRIDAY, the sun is shining, and well, life is peachy in general.
I decided I wasn't so sad about leaving our home, but more unsettled about the future. Jeremy doesn't have a job & what if we buy something, and he gets a job offer hours away.... then we get to sell and move all over again. So we've decided to take this step by step.... #1. sell house. That's where we are.... maybe in this process we'll figure out where we'll be next.
(not to mention everyhousewelovegoesundercontract BLAH!)
Anywho.... it's Friday & I need something cheerful to look at.... like this blouse....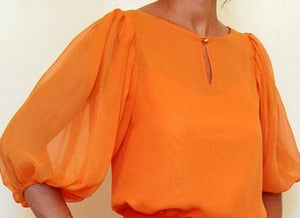 Eden Blake
Too bad it's freaking $335
...... I'll need more orange in my life now that the orange bathroom in our house is no longer orange..... but tan.